Cable theft is a crime that affects you, the paying customer. Cable theft drives up operating costs, which raises the cost of service to paying customers. Aside from cost, the quality of cable and Internet services can also be affected. This can include picture quality, speed of your broadband Internet connection, or quality of your telephone service.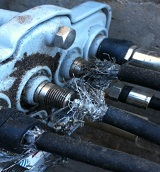 The three categories of theft of services are defined as; Passive, Active and Premium.
Passive theft is a non-aggressive form of theft. This means that no intentional tampering with the CATV system is done to acquire service. The most common form of passive theft is when a person moves into a new residence, connects their TV to a coaxial outlet and finds they have active cable service. Passive theft occurs when they donít contact the service provider to activate their account. Many people feel that since they did not tamper with anything, itís not really theft and they can continue to receive free services guilt free.
Active theft is an aggressive form of theft. It is when someone knowingly and intentionally makes an illegal physical connection to the cable system in their area for the purpose of receiving cable service in their home or business. The most common forms of active theft are;
Tampering with CATV hardware
Splicing into or removing paying subscribers
The removal of service limiting traps.
Premium theft or "Pay Theft" occurs when someone knowingly and intentionally attaches equipment (i.e. black boxes, cheater box, cube, descrambler, decoders, etc.) for the unauthorized reception of premium or pay cable services such as HBO, Showtime, Cinemax, Starz, or Pay Per View movies and special events (wrestling/boxing).
If you suspect someone is stealing cable services, please contact your service provider.
Cable theft is illegal under various state laws as well as Section 633 of the Federal Cable Act [47 U.S.C. ß 553].
Although we do not offer any administrative or engineering constraints on passive theft, we have solutions for active and premium theft.