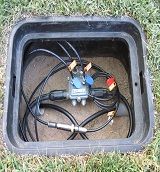 Reduced trouble calls:
With decreased accessibility to "Free services" there will be a reduction in truck rolls to repair noise related issues related to improper connections and damaged equipment.

Decreased maintenance costs: Decrease the amount of time performing routine maintenance installs, disconnects and leakage sweeps. Schedule maintenance tasks proactively, not reactively.
Equipment costs: Regardless of the taps your system currently utilizes, standard or programmable, there will be a reduction in the amount of equipment replaced due to damage.
Damage and loss prevention: Decrease the amount of time spent on nuisance cable theft allowing more time to actively pursue the serious offender. Regain control of your system and recover lost revenue through legal convictions and restitution.
Customer engagement: Employ your customers to alert you to theft of service at no labor costs to you. By employing your customers you will spend less time conducting tap audits and increase your focus in areas needed to reduce theft. Customers will not hesitate to report a decrease in service levels, so why not use their complaints as a tool to stop theft of service.
System integrity: Illegal connections cause ingress of signal that can interfere with video and two way communication devices. Eliminating theft can add value to customers' service by providing higher reliability. Increase your system integrity and spend less time introducing new features to your customers.
Decrease signal leakage: Theft of service can also cause egress of signal from a system. This leakage is monitored by the FCC due to the harmful interference with aviation and emergency radio transmissions. Fines are imposed on companies that do not meet these standards.
Maintenance friendly design: Full access to the tap in, out and test ports without removing the security device from the tap. Keep your identification tags in place to reduce inaccurate disconnects and decrease the amount of time needed to identify a customers line on trouble calls. There is no longer a need to cut the connector off when a customer terminates their service, reducing the cost to activate a new customer.
Locking styles: We have left the locking devices up to the customer. If your system uses a plunger style lock or a star locking design we offer a solution to fit your current style of locking devices.
Defender series: Our "Defender" series is an all steel design with two layers of corrosion protectants.
Eliminator series lids: Our "Eliminator" series lid has the same benefits as our Defender series lid, with an added manufacturing step for security; making them even more resistant to unwanted entries.
Filter/trap enclosures: We offer security compartments that install easily onto our tap security devices using two trap box fasteners, eliminating unauthorized access to the service limiting device.
Reduce Operating Costs: By reducing your operating costs you will be able to provide your customers with higher quality products and services.