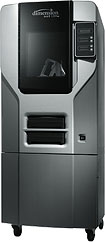 We use a Dimension SST 1200es 3D Printer that builds in ABS Plus material.
The build envelope is: 10"W x 10"D x 12"T, Total build area is 1200 Cubic Inches.
Select your layer thickness: .010 or .013.
We print in Single colors;
White
Black
Dark Gray
Red
Blue
or Nectarine
We recommend modeling in inches, but we can do millimeters.
Why wait weeks for your prototype, we can print your .stl file and have it to you in days.

Please contact us today for a free quote.